Caffeine Toxicity in Pets
What are the symptoms of caffeine toxicity?
Caffeine is a stimulant, which is why it helps us stay awake. Most of the signs of toxicity are a result of the stimulant effects of caffeine. Think about how you feel after 3 cups of coffee and you will get a good idea of what your dog or cat is experiencing after lapping up a spilled energy drink.
Pets that consume caffeine may have an increased heart rate and become hyperactive. They get jittery and restless and do not want to lie still. They may also pace or vocalize excessively.
Caffeine raises blood pressure and causes cardiac arrhythmias, which can be dangerous. Pets may also lose muscle control and have tremors or seizures. Caffeine affects the gastrointestinal tract and can cause vomiting and diarrhea. Vomiting may actually be a helpful side effect, since it can remove some of the toxin from the body. Pets may also need to urinate more just like people do after drinking a couple of sodas. Large ingestions of caffeine can be fatal to dogs and cats, especially if no treatment is given.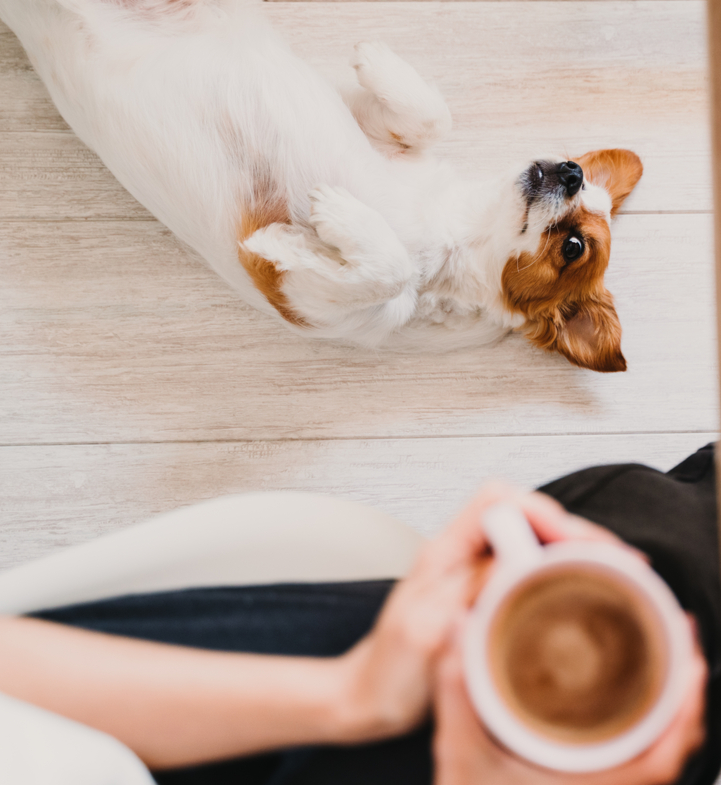 Numbers Matter
Dogs and cats are more sensitive to caffeine than humans are. While taking a sip of hot coffee or iced tea probably will not adversely affect most pets, ingestion of one or two caffeine pills can be fatal for small dogs and cats. Symptoms can start as soon as 30 minutes after ingestion and last for 12 or more hours. Many caffeine containing products also include additional ingredients, like sugars or other stimulants.
The degree of toxicity is determined by the amount of caffeine ingested as well as the size and health status of the pet. A large, young, healthy dog will likely have a better outcome than a small, old dog with kidney problems. But, regardless of age or size, caffeine can damage major organs like the liver, heart, kidneys, lungs, and central nervous system.